---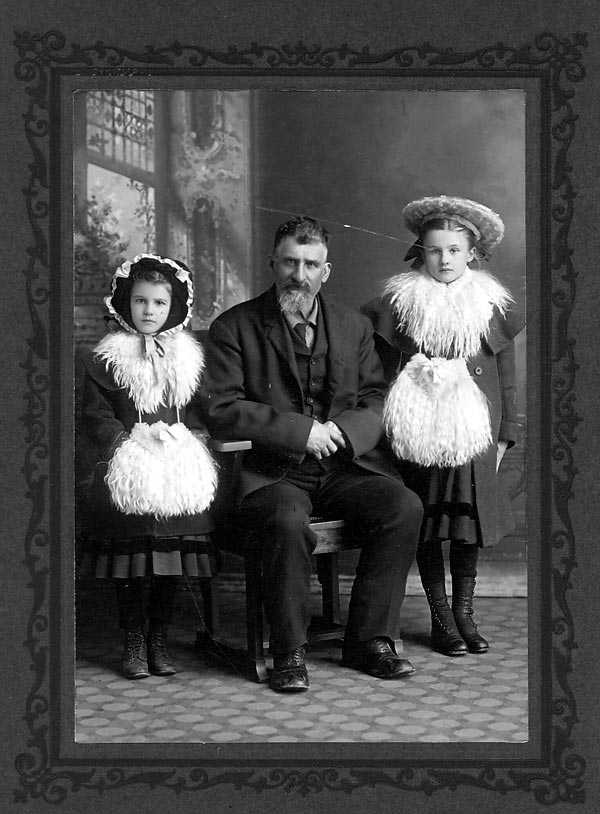 William Averill with Selena and Martha
Merrill, Wisconsin 1891
---
Current Project Status
November 14, 2013 - Averill Project Update

Our approach in 2008 to the construction of this website was to research individual family lines as we were contacted by you, the living descendants. It became apparent to us that this was causing a great deal of repeat research so we stopped this approach, and began a more systematic search, starting with the 1790 census. At present we have completed 1790 through 1900 censuses, and are approximately half-way through the 1910. Hopefully next year we will finish the 1920, 1930, and 1940 censuses. As of last week, we stand at a total of 21,800 names and 15,000 documents. Some of the documents are wills, bible records, birth certificates, marriage records, etc., however, most are digital copies of census pages. All information gathered is being sourced so that future generations will be able to determine if this information comes from original records or simply family hearsay.
On the averillproject.com website, we have 14 PDF reports. The first one covers William "of Ipswich" Averell for the first two generations, and the others cover each one of the family lines from the third generation down. So, for a complete report on your line, print William "of Ipswich", and then select the name of your third generation ancestor to have a complete report. Remember that for privacy issues, I have chosen to cut off all of the PDF reports at approximately the year 1920. Should any descendant want their data from 1920 to 2013, please give me a call so that I can generate a complete report; hence, we will be assured that information stays within your immediate family. For those who have previously printed the original PDF reports, I would recommend that those be destroyed and replaced with the updated versions, as there have been numerous corrections and additions.
Progress since March 2011 – 2 ½ years
The following table outlines the number of pages ADDED to the 2011 PDF reports. All totaled, we now have 1,617 pages, savable and printable from the website, an increase of 503 pages. Remember, this is 1,617 pages that stop in 1920. A complete printed report of the entire database would be 2,811 pages, and is growing weekly. For the last 2.5 years, we have averaged 200 new names per month.
The number of pages added to each report since 2011 are outlined below:
William "of Ipswich" +2 pages
Ephram, son of Sarah the Witch +1 page
Job, son of Thomas +12 pages
Benjamin, son of Thomas +13 pages
The following are third generation grandchildren of William "of Ipswich" and children of William, Jr.:
William III +31 pages
Nathaniel +10 pages
Job +95 pages
John +124 pages
Ebenezer +0
Thomas +51 pages
Abigail +0
Paul +50 pages
Isaac +114 pages
Mary +0
We welcome any editing assistance that you may be able to provide, either by email or hard copies through the mail. It is impossible for research of this magnitude not to contain errors. Please assist us in our efforts to add information and correct errors.
Best Wishes,
Gordon Stevenson
July 2013: Trip to Chipping Norton, England
Click here for narrative and photos

May 2013
The complete census search from 1790 to 1900 was finished.
February 2010: Salt Lake City Trip
For those of you who have never been to the Mormon's Genealogical Family History Library in Salt Lake City, it is an easy and pleasant trip. We flew into SLC, caught the free shuttle for a 10 minute ride to our hotel. The hotel is on the same block as the library, so just a short walk around the corner each day. Click here for photos of our Salt Lake City trip
We worked on the 2nd floor, where thousands of microfilm records are housed. Our focus and goal was to scan all Averill deed records prior to 1850 for all counties in Maine. We had quite a production line: Tresa reviewed the indexes and identified which film rolls contains records. Gordon pulled the film rolls, located volume and page, then took over to Toni who scanned the deeds onto our flash drive. By the end of the week, we had scanned over 1600 pages of documents.
Library Hours we worked: Monday 8am-5pm. Tue-Fri 8am-8pm.
Next Step: over the coming months, they will be reviewed and linked on FamilyTreeMaker to the proper families. Un-matched documents will from time to time be reviewed to hopefully determine the lineage of some non-linked Averill lines.

In September 2009 Tresa spent several weeks in Maine and New York gathering 200 pages of copies of original documents. This information has been entered into the database. We are working on a complete search of the 1850 and 1860 census. Completion date unknown.

As of August 2009, we have transcribed all 1000 pages of birth, death, and marriage records from the Clara Avery book onto Family Tree Maker. At the present time, our database contains in excess of 14,112 names descending from William. This includes Averill and non-Averill surnames. We have now transcribed all known information pertinent to William of Ipswich, and his son, William, Jr.

In June, July, August 2009 we entered information on our Revolutionary War ancestors from the Daughters of The American Revolution (DAR) and the Sons of The American Revolution (SAR) records. Current information indicates that at least 30 Averills served. Those Patriots are indicated on the lineage chart. Should your family have any information concerning these Patriots, please contact us.

Between November 2008 and April 2009 postcards were mailed to 1650 Averill and Averell surnames in the United States. Response has been good. We have been contacted by over 150 living Averills, of which 64% have been linked to William of Ipswich, and 36% are unidentified line. 1 Averill is from the French line, 1 is from a German line, 1 is from a New Zealand line, 1 is from a Chile line, and the remaining we have been unable to tie in to our William due to insufficient information.

November 2008, based on a contact from the 2nd mailing, we identified a French line of Averills beginning with Paschal Averil, born 1807, arrived from France in 1854 settling in Kankahee County, IL with his wife Louisa Collins and their 9 yr old son Narcisse. In 1857 they moved to Douglas County, Kansas. There were approximately 80 descendents of Narcisse Averil, of which 40 had Averill surnames (various spellings.) Thank you very much to Cheryl Haines and numerous researchers for providing this information.

It appears that William of Ipswich had only two male children, William, Jr., and Thomas, who had descendants. It interesting that all 72 of the identified living Averills tie into William, Jr., as we have yet to find a descendant of Thomas.

William, Jr. had 14 children, of which 3 were females and 11 males, of which 8 males have had families. It has been exciting to find out that those of you who have contacted us relate to the third generation as follows: 3 to William III, 1 to Nathaniel, 17 to Job, 20 to John, 0 to Ebenezer, 10 to Thomas, 17 to Paul, 27 to Isaac.

We will also make this information available on disk in Family Tree Maker or GEDCOM format for your personal use, free of charge.

New Zealand Averills ~ We have been contacted by Ian Averill from New Zealand. Research indicates that most of the New Zealand Averills descend from the Averills of Staffordshire, UK. (John Gatey Averill (b. 1748.)
Four generations later, two cousins, Alfred Walter Averill, (b.1865) and Edward (Ted) Averill (b.1864) immigrated to New Zealand in 1894 and 1885 respectively.
Alfred Walter Averill was the Archbishop of New Zealand 1925-1940. Wikipedia.
Edward (Ted) Averill came out to manage a station (large farm) for a bank. He ended up with a good sized holding which he passed on to his offspring. (Most of his known history was written up in a book called "Hey Days and Dray Days, A History of Olrig Station 1859-1998" by R.J. Patterson.)
It appears that most of the Averill's in NZ descend from those two. To date, current work by the New Zealand Averills indicates 646 descendents from these two cousins.
However, there may have been other immigrants in later years.
It appears that possibly two males of the Staffordshire clan immigrated to the United States in the 1800s.
Thank you, Ian, for completing your DNA test. DNA results indicate that the New Zealand branch is not related to the American William of Ispwich clan.

UNITED STATES AVERILL IMMIGRANT SUMMARY:
William of Ipswich-Immigrant #1, William's brother-possible Immigrant #2; Pascal Averil (Averill) immigrated from France 1854-Immigrant #3. Possible immigrants #4 and #5 from the John Gatey Averill Clan, Staffordshire-immigrated possibly 1800; Possible immigrant #6 Germany, and possible immigrant #7 Chile.

DNA Project Status

We currently believe that there are approximately 2,000 Averill families in the United States. We hope that we will be able to find at least 30 male surname Averill descendents to complete this test. This will support or refute the theory that most Averills in the United States descend from William "of Ipswich."
For the Avery line, we need at least 5 male surname descendents who have a well-documented lineage back to William of Ipswich.
Information concerning testing may be found at www.FamilyTreeDNA.com. It is highly recommended that only the 37 marker test be used. This test costs $149.00. ** Should you be interested, BEFORE purchasing this test, please contact the webmaster to inquire as to the availability of a possible discount.

Click here to read boring DNA information

DNA News:

FamilyTreeDNA has recently announced a drop in the price for the Y-37 marker test from $149 to $119. As a result an effort is being made this month to contact and identify two volunteers from each of 7 of the third generation. As of 1/2/2010 we have 1 from William, 1 from Nathaniel, 2 from Job, 1 from John, 2 from Thomas, 1 from Paul, and 1 from Isaac. Thank you very much, John, Phil, Brian, Earl, Nate, Dana, Jon, Eric, and Ian. DNA testing will provide a clear database for which Averills who are unable to tie themselves directly to William may confirm or refute their relationship.

For those of you questioning security issues concerning DNA testing, your tests are referenced by a number only and a recent Federal Law ensures protection of confidentiality. To obtain more information go to: FamilyTreeDNA.com If you are intrested in the DNA Test, please contact Gordon Stevenson.

FAQ

Question: Is it true that there is a Salem Witch Trial connection?
Answer: Yes. William of Ipswich had a daughter, Sarah Averell, who married John Wildes. It was Sarah Averell Wildes that was one of the unfortunate souls who was executed in Salem on July 19, 1692. Google Search 'Sarah Averell Wildes' to find out more information or click here for information: History of American Women and Wikipedia Sarah Wildes
I found this historical calendar very helpful in understanding the Witch Trials without reading mountains of books: Click here for Salem Which Trials Calendar
Question: Was the Civil War General, William Woods Averell a descendent of William of Ipswich?
Answer: Yes, for interesting biography, see Wikipedia . To buy a film documentary about William Wooks, click here

Question: Was Earl Averill, the baseball Hall of Famer, a descendent of William Averill of Ipswich?
Answer: Yes, see Wikepedia for information.
(Thank you Earl, Jr. for all of your help.)
Question: What is the difference in the spellings: Averill, Averell, and Avery?
Answer: Between the Averill and Averell spellings, it appears that the prevalent spelling for the first several generations was Averell. However, by about the 4th generation, Averill seems to be utilized by most families as it is today. (In fact Cheryell has found a document from the 1700s from one of her lines which has Averill and Averell clearly spelled both ways within the same document.) The French Averill appears to have landed in America in 1854 with the spelling Avril, but immediately changed it to Averill.
Avery: This site would not exist had it not been for Clara Avery and her extraordinary work in compiling the 2-volume book, "The Averell - Averill - Avery Family." Clara's line of Averys clearly links to William Averell of Ipswich. When we were doing the initial research into living descendants, we found 1200 addresses in the United States with the sur-name Averill, barely 100 with the sur-name Averell, and over 18,000 Averys. Thank you to Shari Avery M. for bringing to our attention, a weakness in our research regarding the Avery line. As a result, we are going to spend more time in the coming year tracing Clara's line of Averys to help us get a handle on the possible number of Averys who descend from William Averell of Ipswich. While it is possible that all 18,000 Avery addresses in the U.S. descend from William of Ipswich, it is more likely that there were numerous immigrants with the Avery name. We will soon be contacting well-documented living Avery males in our line to establish a database, so that we can compare other Averys who have not yet established their lineage.
DNA testing will enable other Averys to determine if it is our Avery line to which they may or may not be tied.
Question: Was James Averell, who was lynched in Wyoming in 1889, a relative?
Answer: According to census records, James Averell was Canadian born to a father from England and a mother from Scotland. Therefore it appears that he was not related to our William of Ipswich, but his father more recently immigrated from England to Canada. Unfortunately we know nothing about that family but are continuing to investigate
James was in the middle of the range wars of Wyoming with Ella Watson, the two being lynched in 1889.
The movie Heavans Gate and the Book Wyoming Lynching of Cattle Kate, 1889 are about the story.
http://en.wikipedia.org/wiki/Cattle_Kate#Life_with_Averell,http://en.wikipedia.org/wiki/Heaven's_Gate_(film)
http://www.legendsofamerica.com/we-cattlekate.html

Question: How do I obtain access to the 1906 Averell - Averill - Avery 1000 page book?
Answer:
CAUTION: IF YOU ORDER THE BOOK, YOU MUST ORDER THE 1922 SUPPLEMENT. IT IS IN THE SUPPLEMENT THAT CLARA MAKES A MAJOR CORRECTION WHICH CHANGES MUCH OF THE VERY FIRST CHAPTER OF HER 2-VOLUME BOOK. THE KEY THING TO REMEMBER IS THAT WE DO NOT, REPEAT, DO NOT DESCEND FROM NICHOLAS AND DORCUS AVERELL of Kent. THIS IS NOT OUR LINE, AND THE 1922 SUPPLEMENT CORRECTS THIS ERROR.
You have options:
A) Free Online: Free digital copies are available on the Brigham Young University digital collections.
1906 Volume 1 (601 pages)
1914 Volume 2 (507 pages)
1922 Supplement (8 pages.)
The files may be viewed and printed. (NOTE: these are large files and make take a few moments to download, depending on your internet speed.)
B) Purchase a photo copy of Volumes I & II at Higginson Book Company for $111.00. Click Here, then locate this Item: AVERELL-AVERY Family. A record of desc. of Wm. & Abigail Averell of Ipswich, Ma., by C.A. Avery. 1094+10p., 2 vols. 1906 & 1914. CRITICAL NOTE: Higginson Books does not appear to carry the 1922 Supplement, in which Clara corrects errors in the original book.
C) If we have been able to link your complete line to William of Ipswich, for a copy of your direct line only, email me at b24b24@aol.com and I will be happy to provide a Report to you free of charge. All I ask in return is that any corrections or additions that you identify in this Report, please forward that information to me.

Question: One Family tradition says that we came from Scotland, is that true?"
Answer: William Averell of Ipswich came from Chipping Norton, England. Clara Avery originally thought that he came from Kent, England, (THIS IS WRONG-WILLIAM DID NOT COME FROM KENT.) so in the original book one can skip the first chapter on the Kent, England ancestry. She and other researchers later determined that William and Abigail left Chipping Norton for America about 1632-1635. It is possible that another line of Averills came in through Scotland. Information from the 3rd mailing indicates that this connection may be attributed to Palmer H. Averill, born 1806 in Canada, may be the source of this rumor. There is currently no information that leads us to believe that there is a Scottland connection.

Question: Am I working on this project for material or academic interest?
Answer: Technically, neither. I remember laying on the floor in my grandparents' living room reading the "Averill Books." This gave me an interest in genealogy, which has turned into somewhat of an enjoyable passion for me personally. All costs associated with this project are being covered by me personally, including a professional Genealogist, Tresa Tatyrek, who works about 15 hours a week on entering data on the Averill Family.
I ask for only two things in return:
1. Averill Descendant information
2. Scans or copies of any genealogical documents which may be helpful to future generations.


For More Information:

If you wish to provide information or inquire about the Averill Project contact:
Webmaster ~ Gordon Stevenson, son of Marie Averill.
b24b24@aol.com and toni.schmid@gmail.com (Toni, co-Administrator)
Mobile: 214-616-8723
Mailing Address on Request